984: Prisoner of the Future (1982)
After a new political regime takes power, businessman Tom Weston is amongst a group of people who are interred and interrogated. Tom is convicted of a terrible crime that he does not fully understand or has any recollection of being involved in.

---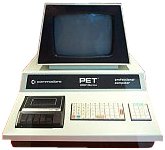 Tom uses a PET at work and later more PETs appear in various places in the prison.