The Spy Next Door (2010)
Bob is a spy who decides to retire and settle down, hoping to marry his girlfriend Gillian despite her children's misgivings. When Gillian's son Ian accidentally downloads a secret formula from Bob's computer, the whole family are put in danger.

---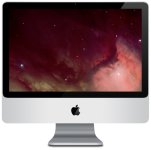 Bob's computer is an Aluminum iMac.