Charlie's Angels (2000)
A crack, all-female, crime-fighting trio break into a vault to retreive stolen voice identity software. It soon becomes apparent that they have been double crossed and their mysterious boss Charlie has become a target for a revenge killing.

---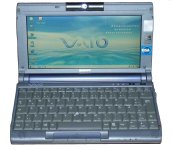 The girl's sidekick Bosley owns the C1 and uses it to hunt down the voice recognition software.