Il muro di gomma (1991)
An Italian plane flying from Bologna to Palermo crashes with 81 deaths. Journalist Rocco Ferrante begins to suspect that the official explanation of structural failure may not be accurate.

---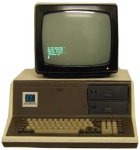 The offices of the newspaper where Rocco works are equipped with Alphatronic P1s or P2s.