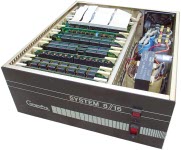 Compupro System 8/16
The System 8/16 was a professional 8-bit computer system based on an S-100 bus and with both 8085 and 8088 processors. It was among the last of such machines before the IBM PC started to dominate the market.

---
Buckaroo's team, the Hong Kong Cavaliers, hack into the Yoyodyne computer to discover the alien plot.