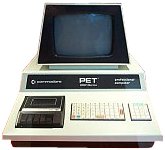 Commodore PET 2001 in Star Trek II - The Wrath of Khan (1982)
The Pet (I can't be sure of the model, but my guess is the original 2001) is part of Kirk's antique collection.





Would it really still be working after 300 years?





It is there, in the background!